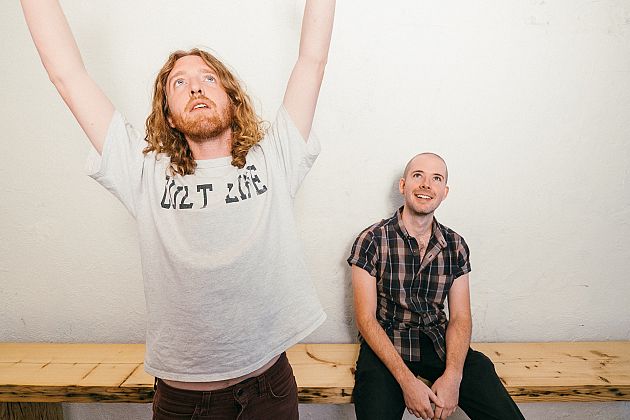 About
You don't just get there straight out of the blue; those haunting humming synthesizers at the beginning of "Paragraph Nights," the melancholy piano chord changes, the emotional pull the song has on your psyche. It's a process, you know? It comes from years of growth, experimentation, revision, looking at the scene from another angle, considering the possibilities. "Take a picture, make it last, make it different," sings Dominic Angelella. And that's very much the road DRGN KING has taken.

Our story opens with Angelella onstage at a North Philadelphia rock club, his hair flailing, his guitar strings rattling, his face beaming. It's 2009 or thereabouts, and he's performing with one of his old bands, a punky Americana group with such high energy, folks are hanging out after the show to shake his hand. A couple months later, a different venue, a different scene entirely – an eclectic hip-hop outfit, and there he is again, rocking out on guitar. Later still, Angelella's face keeps showing up in band photos, on show flyers and venue websites. His enthusiasms run the gamut – experimental lo-fi psych, indie rock soul, arty grunge throwbacks. The question has to be asked - are you in every group in Philadelphia? He laughs, responds: No man, just a bunch of projects.

Meanwhile in South Philly, Brent "Ritz" Reynolds was holed up in a studio, making a name for himself as a young hip-hop producer. He cut tracks for The Roots, worked with Mac Miller and State Property alum Peedi Crakk. Reynolds knew his stuff and had the moxy for the hard haul of being a freelance recording guru. In early 2010 he and Angelella connected in a chance recording session, and the doors of possibility were blown open. Angelella's songwriting would become a prototype for Reynolds to test out his lush, imaginative production skills into the rock world. Conversely, Reynolds' studio alchemy would place Angelella's broad-spanning tastes and musical interests under a single umbrella. You don't have to be in a dozen different-sounding bands and call them a dozen different things. You can do it all, and call it DRGN KING.

DRGN KING debuted in a well-received warehouse show that fall. Angelella and Reynolds deemed the experiment a success, and kept it moving. Various musical collaborators were brought in, shows got played and new songs were written. Then they retreated into the studio, recorded, refined and recorded some more. Paragraph Nights comes after two years of nose-to-the-grindstone work, and its song are bursting with life, excitement, self-discovery, possibility. Listen to the pensive, introspective electronic pop of "Warriors." It's a nod to the community of artists and musicians in Philadelphia, and ruminates on crafting an identity through art: "People tell me I got no purpose," Angelella sings. "They're not wrong but it's allright."

Skip around and you'll find a variety of tones and moods. The fierce industrial juggernaut "Barbarians" rushes at you with a surreal account of nightlife as a rite of passage, as well as a possibly damaging pursuit that just might fray one's sanity. With haunting half-whispered, half-howled vocals and hammering drumbeats, DRGN KING pushes you to the edge, then carries you back. Earlier, the power pop riffage of "Holy Ghost" laughs and makes an anthemic march out of people projecting an identity onto Angelella – telling him he looks like the Christian Jesus.

With a massive beat and blissful refrain, "Altamont Sunrise" is a soaring number to carry you on your way – to other cities, to other countries, worlds apart from where we are today. A snapping snare drum and juggling bass line are your guides, while Angelella sings loudly and joyously with everyone in the room about taking the lessons learned and making something bigger and brighter on top of the ruins.

It's not a piece of music that DRGN KING could have written individually, or four years ago. Nor is Paragraph Nights a record that could have existed then. It's an album about the journey, one that reflects as well as embraces it, channeling the trial-and-error process of music-making – and life in general – into something new.