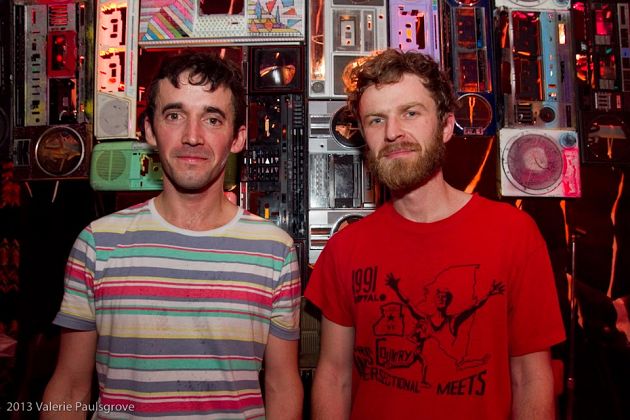 About
Javelin is the creative endeavor of George Langford and Tom Van Buskirk, cousins from New England.

Javelin began making music in 2005 under the auspice of the Providence, RI art/noise scene. They wielded a mobile boombox soundsystem that used FM transmission to pump out pop-influenced sample collages, and their aesthetic aimed for surrealist block party in-a-box.

In 2008 they performed at MoMA's Poprally event and moved operations to Brooklyn. They quickly made a dent in the extensively musician-populated borough and were featured in Pitchfork's "Rising" section. Pitchfork also named "Vibrationz" Best New Track, and gave honorable mention to the self-released CD-R Jamz n Jemz in their Staff List 50 Best Albums of the Year (2009). Javelin released two 12" EPs on Thrill Jockey that were housed in dollar bin record sleeves and silkscreened with their name, actualizing the thrift store / dollar bin / sampled art aesthetic that had been their hallmark.

In 2010 Javelin signed to Luaka Bop, David Byrne's psychedelic world music label, who released their debut LP No Más. The album artwork and booklet featured spray painted record cover collages by Tom Van Buskirk. Javelin played shows and toured with Yeasayer, Sleigh Bells, Future Islands, Matt & Kim, Warpaint, Major Lazer, performing at Lollapalooza and The Whitney Museum, as well as parties across the US, Europe, and South America. They booked the flights themselves.

In 2011 Javelin joined up with a wagon train and headed West. The Kickstarter funded psychedelic cowboy short film Canyon Candy, directed by Mike Anderson, and the Canyon Candy EP (Luaka Bop), found Javelin exploring a junk store cowboy aesthetic. The project culminated in a multimedia art installation with Mike Anderson at the Clocktower Gallery in New York, which stayed up half the year into 2012.

The new record is called Hi Beams. It represents a more holistic approach to writing and recording than previously attempted by the band. Lyrics and vocal harmonies for the first time are foregrounded in decidedly songlike forms. Songs made to be performed in concert rather than as a patchwork of fragmented if glittery shards.

The songs cover a broad range of territories: homage to the strangeness of being a performer; encountering beauty & the void in the natural world; how mundane aspects of work/life distract and alienate us from our desires; advice to internet-based musicians; an assurance to someone who has isolated themselves; light, sky, stars, moon; gravity, delivered with levity...

Hi Beams was recorded and mixed at Machine With Magnets (Pawtucket, RI) using proper microphones, vintage mixing desk, an array of amplifiers, real plate reverb -- in the traditional sense a "studio album." Previous work had been cobbled together in home studios and mixed on computer. On this record, Javelin aimed for a sound they could not have achieved by themselves.

Of note, "Light Out" was written with samples from "Hey" by Moss of Aura, aka Gerritt Wilmers (keyboardist in Future Islands). "Drummachines" came from a track recorded by Javelin with Travis Murphy on guitar, of the now defunct Killer Whales.

In performance, the beaten down tower of boomboxes will make their reappearance in mutated form -- like a phoenix rising from the ashes -- as the visual backdrop for the new stage show. A large wall sculpture of dozens of boxes stitched together with industrial velcro and lit up with LEDs will provide a taste of the old show flavor, and will make any room feel slightly more like home (or like an eccentric stereo repair shop, who knows). Changes to the sonic and light show setup are expected as well.

From Javelin: "The last thing we'll say about the new record is that we are sincerely proud of it. We chose the name Hi Beams because the songs evoke to us a sense of sky, stars, night, and warmth -- they are bright bodies of light that wave hello. Please enjoy the fruits of our collective labor."