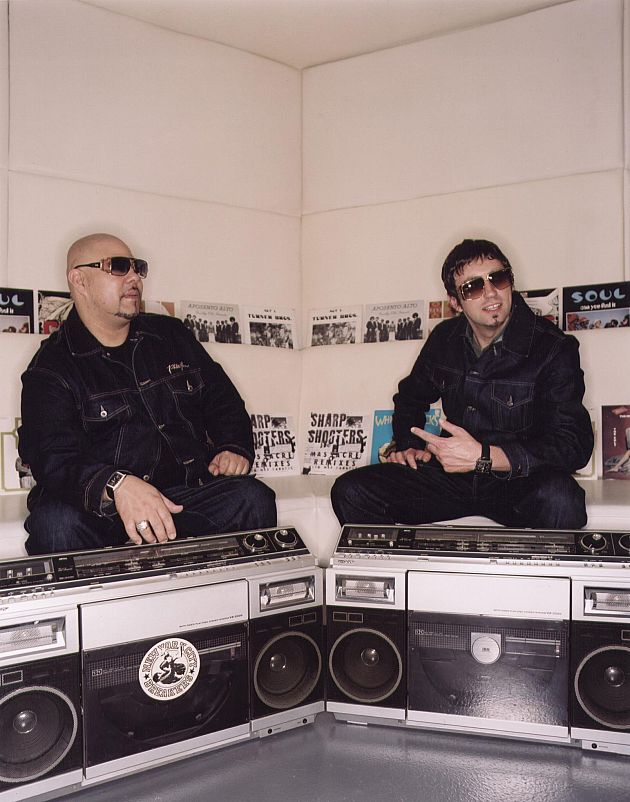 About
The man they call "Sureshot" is mostly well known for his groundbreaking and critically acclaimed hip hop meets jazz project "The Sharpshooters". This highly innovative sound garnered him global recognition and led to numerous releases on the Ubiquity, Om, Light In The Attic, Shadow, Conception, Hed Kandi and Sony labels. His music productions have been featured on MTV, "The Wire", "Kevin Hill". "Sopranos", "OZ", ESPN and various TV commercials.

In certain circles, Sureshot's insane record collection AKA 'Million Dollar Crates' is often the topic of discussion. He is after all, responsible for 4 of the worlds rarest funk albums: 'Betty Padgett', 'Turner Bros. Act 1', 'Lialeh' and ' Wayne McGhie & The Sounds Of Joy' getting proper legal reissues. Rumor has is that the heavily sampled and even bootlegged 'Status Breaks And Beats' and 'Soundbwoy Reggae Breaks And Beats' 5 LP series was also his crafty work.

Deejay "Sureshot" has been into music ever since he can remember. Buying records with his lunch money as a kid, he recalls purchasing a "Le Freak" by Chic 45 when he was in 5th grade. In his teen years he was turned on to 60's Soul and Jamaican Ska through the Mod revival scene in the early 80's. Years later he purchased the "Paid In Full" LP by Eric B. & Rakim and it truly changed his life forever. Hearing old funk given new life through hip hop, he started his quest for diggin' up the originals that were being sampled by producers and cut up by disc jockeys. With over two decades of Djing and collecting under his belt, not a lot has changed. Sureshot remains loyal to quality music and keeps a "True School" attitude. His deejay sets are a perfect marriage of Funk, Soul, Hip Hop, Disco and Reggae and incorporate underground classics and future classics in these genres. Sureshot likes to mix it up in order to keep it fresh and knows how to rock a crowd. His skills and deep crates keep him in-demand and have led to performances alongside: Cut Chemist, Thievery Corporation, DJ Spinna, Music Man Miles, Peanut Butter Wolf, Max Glazer, Apollo, DJ Honda, DJ What, Pazant Brothers, J-Rocc, Shortkut, Andy Smith (Portishead), Greyboy, Ol' Dirty Bastard, Egon, Cherry Wine, The JB's: Fred Wesley / Sweet Charles / Maceo Parker, Arrested Development, Grandmaster Caz, Busy B, Mark Rae, Aim, Ice T and Kool Keith. Sureshot has djed across the US and in London, Japan, Canada, France, Poland, Germany and Spain and has toured with Ben Harper, Prince Paul and Big Daddy Kane.