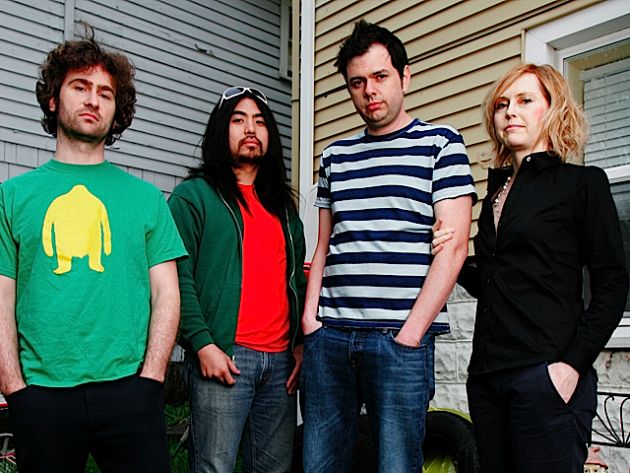 About
The Heavenly States came together in 2002, united by a shared passion for complex and cathartic rock bursting with literate, provocative lyricism. A series of acclaimed albums and a seeming endless capacity for touring – including a landmark 2005 trek to Egypt and Libya – confirmed their status as one of America's premiere indie outfits, flying the flag for self-determination and intelligent, energetic rock 'n' roll.

Oui Camera Oui – the Bay Area-based band's first release on the new Hippies Are Dead label – follows their highly praised 2008 album, Delayer. After spending much of the year on tour following that record's release, the band pondered their next move, wondering how best to follow such an ambitious collection. The inspiration struck to attempt an EP, in the tradition of band favorites like Margin Walker, Metal Circus, and oh yes, Magical Mystery Tour.

"We started thinking about the death of the record," says singer/guitarist Ted Nesseth. "People are broke, their attention spans are waning. We have all these ideas so we thought, let's just rock out five or six songs, give the EP a rebirth."

"We're never short on concepts or ideas," singer/multi-instrumentalist Genevieve Gagon adds, "so we thought the EP could be a great medium for us – a handful of songs that just fit together. This could be something we carry into the future, releasing a series of EPs instead of writing these epic novels."

In the fall of 2009, the band headed for Los Angeles, where they produced the record alongside Bill Lefler (Meg & Dia, Low Vs. Diamond, Dashboard Confessional) at his Deathstar Studio. Having fewer songs to record gave them a chance to invest more time on each track, crafting a carefully orchestrated sound enabled drummer Jeremy Gagon to experiment with an array of percussion – including triangle, vibraphone, and other instruments – while Ted and Genevieve were focused on detailed arrangements and intricate vocal tracks.

"We've never had the luxury – or the cash – to really try to capture vocal performances," she says. "We wanted to make it so you can hear all the elements. When things get really orchestral, you can't always hear everything that's going on, so we wanted to try and create a kind of clarity."

After the sessions wrapped, Nesseth flew to Brooklyn to mix the record with John Agnello (Dinosaur Jr., The Hold Steady, Kurt Vile), who had previously worked with the band on 2005's "King Epiphany" single. While in BK, Nesseth arranged for comedian Eugene Mirman to record the EP's comic epilogue. The States had previously encountered Mirman – beloved for his Sub Pop stand-up collections as well as his recurring role on Flight of the Conchords – while playing a comedy/indie rock double bill in of all places, Fargo, North Dakota.

"I just thought he was ridiculously funny," Nesseth says, "and made it my mission to become his friend."

Mission accomplished, Mirman agreed to appear on Oui Camera Oui, offering to record a recitation of the band's less positive reviews. The result is a somewhat scathing indictment of the sorry state of rock criticism in the blog age, as well as a classically Mirman-esque bit of hilarity.

"He basically embellished what was already there," Nesseth says. "The reviewer never actually said that we 'fuck baby wolves.' That was Eugene."

Also joining The Heavenly States on Oui Camera Oui is avowed fan Britt Daniel of Spoon, who lends his distinctive vocal stylings to "Berlin Wall." The band met the Spoon frontman after a 2008 show at Portland's Doug Fir Lounge with The Minus 5, whereupon a rather inebriated Nesseth got up the dutch courage to present Daniel with a copy of Delayer. The following day the band was surprised to receive a message on their Facebook page.

"Britt literally said, 'I can't stop listening to this record,'" Gagon says. "And then he invited us to open for Spoon, three nights at The Fillmore. It was like this incredible gift. After that Ted asked him, 'Do you want to do something on our next record?' and he said 'Yeah.'"

Daniel recorded vocal tracks at his home studio, which were then mixed into "Berlin Wall" at fellow Spoon member Jim Eno's Public Hi-Fi Studio in Austin, Texas. Despite the high-profile guest stars, Oui Camera Oui is very much The Heavenly States' show. Songs like "Model Son" and "Monster" capture the band's very essence, an eclectic, multi-faceted approach easily identified by Nesseth and Gagon's bifurcated harmonies, crafty melodic structures, and a satisfying sense of musical motion marked by wit, intensity, and endless possibility. Nesseth likens the EP as the band's "'Theresa's Sound-world' moment," referring to the Sonic Youth track from the 1992 classic, Dirty.

"I don't know if it's because I was really stoned in high school," Nesseth says, "but I thought that song was just the most concise statement of who Sonic Youth were, like, this is the thing that they'd been trying to say forever. They just hit it on the head. I feel like that's what we did with Oui Camera Oui, only across a group of songs, not just the one."

Beneath their ebullient hooks, the songs of Oui Camera Oui offer a pragmatic perspective of 21st Century America as a dystopian society on the precipice of moral and economic collapse. Like any protest singers worth their salt, Gagon and Nesseth are loath to pen explicitly obvious lyrics, preferring a more indirect approach encompassing metaphor, cultural critique, and perhaps the greatest weapon in any revolutionary artist's arsenal, sarcasm. Gagon feels songs like "Monarchia" or the anthemic title track serve an essential purpose in these difficult times, offering a kind of alternative news source to the corporate-owned status quo.

"We've played with Mike Watt many times," Gagon says, "and he often talks about, 'Why do we keep doing this?' Well, for us, one motivating factor is trying to be a voice in all this mess."

In the year since recording Oui Camera Oui, The Heavenly States have kept busy in a variety of ways. In addition to writing songs with Nesseth for the next EP, Gagon has been hard at work penning a screenplay loosely based on the band's trip to the Middle East, a narrative detailing "what it's like to be us, in a band, in this landscape. Libya and Egypt figure into it in that I'm distilling the meaning of those experiences, without it being a literal representation of what happened."

Of course, The Heavenly States' true passion remains writing, recording, and rocking the road. They plan to tour hard behind Oui Camera Oui, while still finding time to cut another EP's worth of what Gagon calls "sister songs and responses, the baroque counterpart to this more classical collection of songs." Having taken their sweet time releasing Oui Camera Oui, the band has adopted a self-imposed deadline, committing themselves to getting the next installment in their continuing series of American songs out before year's end.

"We don't do expository, didactic political songs," Gagon says, "but there is a temporal element to what we do, so it's important to get it out there when it's still kind of relevant. I mean, what if Bob Dylan had to wait three years before putting out his records? What would've happened to the movement?"