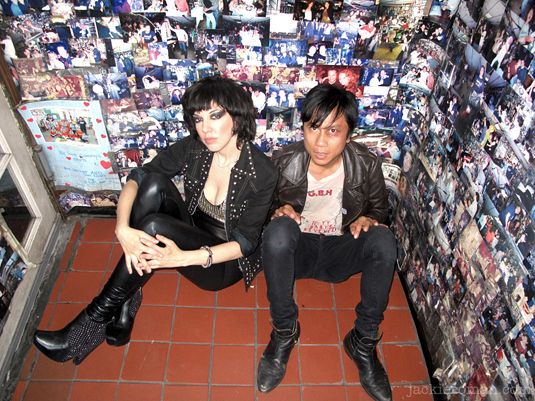 About
Xray Eyeballs is the brainchild of O.J. San Felipe. Originally from San Francisco, O.J. landed in Brooklyn in 2000, but only after numerous cross-country adventures.

Upon settling, O.J. quickly cemented himself in the underground Brooklyn punk, noise, and indie scene playing in numerous bands including Golden Triangle (Mexican Summer, Hardly Art). While Golden Triangle is known as an all around party band that bashes out garage pop tunes that could easily be found on a Nuggets compilation, O.J. had something else in mind for Xray Eyeballs. Starting as a solo project, O.J. aimed to make pop songs that kids could remember after leaving the party. O.J. explains, "I just wanted to make every song sound like a lullaby. To me, lullabies are the most memorable kind of songs; everyone remembers them from when they're babies. They're not all happy lullabies either. I think people like songs they can relate to, with things like love, loss, dark vices, and sex." So while these songs are filled with dreamy pop hooks and melancholic melodies, they are all covered in a spooky haze.

Once O.J. had the framework for the songs, he gathered fellow Golden Triangle band mates Carly Rabalais (Bass, Vocals) and Jay High (Guitar, ex Gogogo Airheart), along with Rop Style (Synth, Theremin, Beats, formerly of the famed band Pee Chees), and Allison Press (Drums). Together, their live show rivals the crowd up into a huge party frenzy, like their fellow garage contemporaries (and buds) King Khan and Black Lips, except it's carried out with a New-Wave Pop twist. Drawing comparisons to the frantic pop of Jay Reatard and the Urinals, and the moodiness of Velvet Underground and Jesus and Mary Chain, Xray Eyeballs twist it all into their own pop concoction. Liz Berg from WFMU described their sound as, "fuzzy, over modulated garage pop at a languid trot."

To date, Xray Eyeballs has been playing around NY, and if you live here, there is a good chance you've seen Xray Eyeballs 'ghost girl' t-shirt given away to skaters, punks, indie rockers and goths. It's like a badge for a secret society. O.J. says, "I like the shirt because you don't know if it's a band or a skateboard company or what. People always ask for it. Even kids in the projects from Bed Sty ask for them, so I keep making them to giveaway. People that have it almost seem like they belong in a secret cult, which I like. It's like that story of how the Germs had those t-shirts before they even had a band! I like that mentality."

Unlike the Germs, Xray Eyeballs has had two sold out cassettes on Night People Records and Party Store Music, as well as an upcoming 7" single on Hozac. Their debut album Not Nothing will be released April 19th, 2011 on Kanine Records. For next year, Xray Eyeballs will venture out on the road, in attempt to grow their (not for long) secret cult of followers.