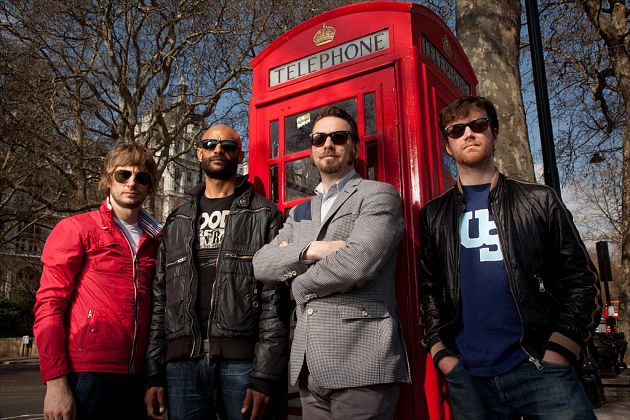 About
The New Mastersounds are a four-piece band based in Leeds, England, whose modern take on vintage soul-jazz, funk and rock draws influences from Jimmies McGriff, Smith, and Hendrix, as well as their most closely-associated mentors, The Meters. Try to imagine Grant Green and Lou Donaldson having a fight in a Hammond Organ shop while James Brown holds the coats, and you have some idea of what to expect from this band.

Their first single, One Note Brown, was released on Blow It Hard Records in 2000 and was passionately championed by acclaimed Northern Soul and funk DJ Keb Darge. To date, the band has released four studio records: 102%, This Is What We Do, Be Yourself, Keb Darge Presents... as well as The New Mastersounds Re::Mixed, and Live At La Cova. Also of note: their single, "Your Love Is Mine" featuring Corinne Bailey Rae, was used in the 2007 Warner Brothers movie Feast of Love.

Having toured throughout Europe, Japan and the USA, the NMS have earned global recognition as a key band in the 'New Funk' scene. But purists beware: their unique blend of funk, rock, soul and dance music is hard to sum up and doesn't fit neatly into any one genre.

Headed soon to a city near you, The New Mastersounds deliver gritty grooves and deep rhythms in clubs, theater venues and festivals alike. Their live shows will get you up dancing and hold you there intoxicated by the funk until last call- when you'll stagger home, sweaty and exhausted, on a wave of euphoria.

Led by guitarist and producer Eddie Roberts, The New Mastersounds feature Joe Tatton on Hammond, Pete Shand on bass and Simon Allen on drums.