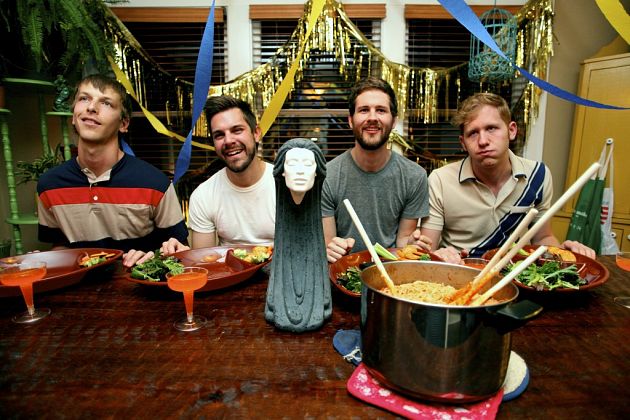 About
The debut release of Kansas City band Capybara is filled to the brim with jangly synth melodies, light falsetto harmonies, and a syncopated percussive style that perpetually threatens to start a raucous party. Try Brother, self-produced in the Spring of 2009 in the mountains of northern New Mexico, blends earnest eyes-wide-open lyrics with delicate multi-instrumental arrangements. Their style draws on many influences, evoking classical chamber pop, down-home banjo folk rock, and soaring indie riffs in equal measures.

"Capybara won't long be an unknown commodity with its jittery, percussive, freakout folk pop. No xylophone is safe when the foursome takes the stage with at least as much pep as Arcade Fire and with songs that are way more fun than anything on Neon Bible." - The Pitch Weekly, Kansas City

Growing up in the American Heartland with a good old-fashioned Midwestern work ethic, their longtime childhood friendships and tightly-knit brotherhood help drive Capybara and fuel their creative fire. While early press reviews of Try Brother have drawn loose comparisons to the work of Dirty Projectors, Sufjan Stevens, and The Flaming Lips, it is clear that Capybara's new album comes straight from the heart.

"Capybara seem to have tapped into the sharpest fragments of the contemporary alt scene with kaleidoscopic expertise. They master every sound they make and never sound like pretenders, always like musicians; original, diverse, vibrant. Not that I mean to gush. Take a tour for yourself." - Monkton VS. Plankton, UK Blog

Look out for Capybara as they embark on their second national tour in Autumn 2009, touring in support of Try Brother, out now on The Record Machine.