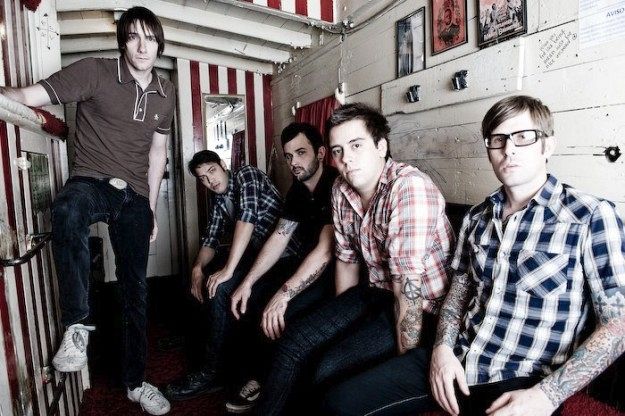 About
There was a point in time before everything fit into neat subgenres, a period when rock music and the nascent punk scene were still discovering their sound and anything seemed possible. Looking back it's hard to pinpoint the exact moment when these two genres converged but if you had to sum it up sonically it would probably sound a lot like the Riverboat Gamblers' latest album The Wolf You Feed.

The Riverboat Gamblers did all the pre-production for The Wolf You Feed with Ted Hutt (Flogging Molly, The Gaslight Anthem) in Los Angeles and then headed down to Dallas put these ten songs to tape with Grammy-Award winning engineer Stuart Sikes (The White Stripes, Cat Power). "There's four writers in this band and we all instantly got on the same page as far as wanting this to be a darker record that still had lots of hooks," frontman Mike Wiebe explains. "We really wanted to go for a grittier, less polished sound to get across the true spirit of these songs because that's what we do live anyway."

Wiebe adds that recording the record in Dallas meant that the band could step outside of their comfort zone and create an album without worrying about external distractions. "My other bands all have different writing processes and I think it's cool to shake it up and have completely new musical experiences whether it's with the Gamblers or anyone else," he explains. "Doing [the album] in Dallas really forced us to creatively get outside of our box and when you do that the results aren't always favorable but this time around things really seemed to come together in a way that was natural."

Listeners just need to listen to the first fifteen seconds of the Hives-worthy opener "Good Veins" to see that the band—which also includes guitarists Fadi el-Assad and Ian MacDougall, bassist Rob Marchant and drummer Sam Keir—achieved their goal largely because they weren't trying to make a record that fits into today's musical landscape. "I got really interested in the time when punk rock and old rock n' roll were all converging and there wasn't really a term for it yet, like with the Dictators bleeding over into the weirder Iggy Pop stuff," Wiebe explains. "It's edgy and intense but it's still catchy and people could dance to it if they wanted to."

Despite the fact that The Wolf You Feed perfectly captures this often-forgotten era, there's a remarkable amount of variance inherent in these songs. From the sweetly scathing anthem "Bite Your Tongue" to the piano-driven, Murder City Devils-esque death march of "Gallows Bird" and classic Alice Cooper-esque feel of "Loser Neck," the album juxtaposes all of these influences into something that's got its roots in the past yet still sounds remarkably relevant. Additionally the album features contributions from Mark Ryan (Marked Men, Mind Spiders) and Sean Kirkpatrick (The Paper Chase) each of whom help the band expand their sound even further.

Wiebe not only proves how versatile of a frontman he's become on The Wolf You Feed—whether he's belting out the soaring chorus to "Bite My Tongue" or singing like a '70s glam icon on "Heart Conditions"—but he also proves what an accomplished lyricist he is on songs like the heartbreaking "Comedians." "I think there's a really strong connection between comedians and musicians; they're ripping their hearts out onstage for people who might not care at all so that was my love letter to how enamored I am with comics and what they do," he explains. Trust us, when Wiebe croons, "At the end of the day it was really only you who wanted to laugh at me," it's impossible not to be moved by the sentiment.

Ultimately all of this relates back to the album's title, The Wolf You Feed. "It's kind of referring to an old Navajo saying that you've always got two wolves inside you and one is good and one is evil; you have to feed one and starve one and it's up to you," Wiebe explains, noting that the cover art represents the constant struggle between good and evil that each of us are forced to undertake each and every day. "Where do you want to go and do you want to deliver your energy to this black horrible thing or channel it into this process of trying something new that could change everything?"

The Riverboat Gamblers can't make that decision for you, but with The Wolf You Feed they've created the perfect soundtrack for it.